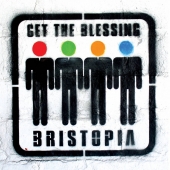 Get The Blessing
Bristopia
Label: Kartel
Genre: Jazz / Avant Garde
Availability
CD Digi / Cardboard €13.99

Dispatched within 5-10 working days
Other Formats
Following the success of their 2015 album Astronautilus, jazz-rock mavericks Get The Blessing return with their spellbinding new Album 'Bristopia'. Blending their mutant jazz sensibilities with spacey electronics and post rock atmospheres, 'Bristopia' ventures into new, unexplored territories.

With this powerful return, Get The Blessing send their sonic transmission deep into the furthest corners of the universe, setting the pace for the current UK Jazz revival, demonstrating that the early pioneers of the scene still have something important to say.

Formed back in 1999 by bassist Jim Barr and drummer Clive Deamer (rhythm section of seminal act Portishead) alongside Jake McMurchie (on sax and electronics) and Pete Judge (trumpet and electronics) the Bristol-based four-piece boast a truly international fan-base, having forged a unique signature sound that defies easy classification. Despite several short breaks for other projects over the years – most recently in 2016 when drummer Clive Deamer was on tour with Radiohead, they have never lost sight of thumping tunes, monstrously infectious beats, or joyous collective spontaneity. After eighteen years, their ability to produce such creative and intelligent music – balanced with wit and passion – is testament to the free spirit that they embody.