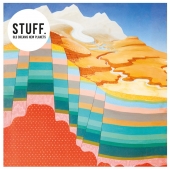 Stuff.
Old Dreams New Planet
Label: Gondwana
Genre: Freestyle / Nu Jazz / Funk / Afro
Availability
CD Digi / Cardboard €16.99

In Stock
STUFF. is what you would get when Hudmo and FlyLo would give Alt J their MDMA before going on stage, telling them to sound like instrumental Beastie Boy's Check Your Head.

One of the most exciting band's in Europe, STUFF.is a five piece band that creates a mighty groove, spanning from broken hip-hop grooves to more electronic and jazz influenced future funk. They defy easy categorisation. Writing for Jazz Standard, Tina Edwards said 'If an energy drink could make music, it would sound like STUFF.', a description that does more to describe their sound than established any genre tags. While Phil Taggart said This is what I imagine Flying Lotus' band to be like on Radio 1.

Utilising lesser-used instruments like the wind synth, alongside the familiar array of drums and electric bass, synthesizers and turntables, they're able scatter rhythms, melodies and electronic effects across their canvas with a Pollock-like abandon, creating music that while heavy in groove has great depth and intrigue.