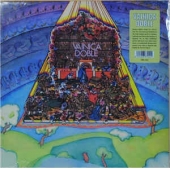 Vainica Doble
Vainica Doble
Label: Vinilisssimo
Genre: 60s / 70s Rock / Pop / Progressive / Kraut
Availability
LP 180gr €21.99

Dispatched within 5-10 working days
Vainica Doble's debut LP (1971) was the fascinating invitation to the truly unique world of Carmen Santonja and Gloria Van Aerssen.

A dazzling mix of folk, traditional genres and psych rock where every track is a wonderfully idiosyncratic marvel.

Includes booklet with notes by Vicente Fabuel.

Presented in facsimile artwork and pressed on 180g vinyl.

It can be argued that Serge Gainsbourg was a typically French artist, although his music was so personal that it would be difficult to find another similar artist in France at the time. The same could be said about Vainica Doble. They were a duo with a distinctly Spanish edge, although it is almost impossible to establish parallels between them and any other Spanish music released during the years they were active. Gloria Van Aerssen and Carmen Santonja were truly unique and their mix of folk, traditional genres and psych rock is a landmark in Spanish pop.

This self-titled LP is their impossible-to-find first album, which despite extremely low sales (it is said that the majority of the copies were destroyed by one of the investors in the Ópalo label after shipping them to Argentina) has been highly influential for generations of pop musicians in Spain and a holy grail item for many music fans. There are plenty of reasons for this.

The opening track, 'Caramelo de limón', already shows how effective their personal musical recipe can be. Fantastic vocal harmonies, unexpected arrangements, original elements brought into the song and even fierce guitars where needed (their backing band, Los Tickets, would later become Asfalto, one of the biggest hard rock bands in Spain). As the album progresses, every track is a wonderfully idiosyncratic marvel: 'Dime Félix', 'Roberto Querido', 'Fulgencio Pimentel'... You will even find drum breaks on 'Quién le pone el cascabel al gato'!

The package is completed with the amazing psychedelic artwork designed by Ivan Zulueta, a cult Spanish artist whose work spanned different fields and some will remember for his film posters for Pedro Almodóvar.

Colored vinyl.