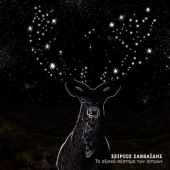 Savvaidis Seirios
To Axiako Systhma Twn Astrwn
Label: Sound Effect
Genre: Rock / Pop
Seirios Savvaidis, known for his guitar playing for The Dead Ends, is a revelation! "The Value System Of the Stars" is the first installment in a series of first-time-on-vinyl editions of his entire solo output, to be released via Sound Effect during 2018 and 2019; his latest album, "Molly", is due out in the fall via Cosmic Eye Records. Stark, ritualistic percussion and repetitive beats, bagpipes, polyphonic ensembles, poetic lyrics and Homeric hymns, earthly and heavenly elements in a psychedelic roller coaster. A quest for the value system of the stars.

"The Value System Of the Stars" is due out on July 6th on limited edition black and silver vinyl.

Seirios Savvaidis is a musician and singer/songwriter born in Kavala, Greece, on March 10, 1980. He is a self-taught musician, playing bouzouki and guitar since he was 7 years old. He has been a founding member of alternative rock band Movastro, releasing 5 studio and one live album, from 2002 to 2013, while since 2016 is a member of psych-rock band The Dead Ends. At the same time he maintained a remarkable solo career, having released digitally 5 studio and a live album. His music, influenced by the Greek and Celtic musical traditions and the contemporary psych- rock scene, is characterized by his poetic lyricism and distinctive expressive style, shaping up h

Silver vinyl.