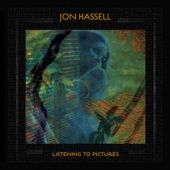 Hassell Jon
Listening To Pictures
Label: Ndeya
Genre: Electronica / Ambient / Experimental
Availability
CD €16.99

Dispatched within 5-10 working days
Reappearance in a painting of earlier images, forms, or strokes that have been changed and painted over.

First new album in nine years by a musical visionary and hugely influential figure in new music. Forty years since its creation, Jon Hassell's Fourth World aesthetic remains a powerful influence on modern electronic music. Continuing his lifelong exploration of the possibilities of recombination and musical gene-splicing, fragments of performance are sampled, looped, overdubbed and re-arranged into beguiling unexpected shapes. Hassell applies the painterly technique of 'pentimento' to the arrangements, teasing out texture by the overlaying of sound upon sound, or a carefully timed reveal of the delicate bones pinning the frame of a track together.
ABOUT JON HASSELL:

A trumpet player, composer and musical conceptualist, Jon Hassell's career bisects a multitude of strands in the history of the avant-garde and the development of genuinely new forms of music. Having studied under Karl-Heinz Stockhausen in Cologne (alongside future members of the band Can), he played on the original recording of Terry Riley's In C (1968), was part of La Monte Young's Theatre Of Eternal Music and studied Kiranic singing with Pandit Pran Nath, all of which informed his own instrumental technique and treatment of the trumpet with various electronic effects. A growing interest in the indigenous music of other cultures led to the invention of his 'Fourth World' blend of different styles, first heard on albums such as Vernal Equinox and Earthquake Island in the late-1970s. These caught the ear of Brian Eno, who collaborated with Hassell on the Possible Musics album, and used many of the Fourth World ideas on his My Life In The Bush Of Ghosts album with David Byrne. He has played on albums by artists including Talking Heads (the seminal Remain In Light), Peter Gabriel, David Sylvian and Björk, composed film soundtracks and contributed to theatre works. In the past few years he has been acknowledged as a key influence on a new wave of artists including Oneohtrix Point Never, Huerco S and Visible Cloaks. In 2017 his music was celebrated with a compilation album on Optimo Music, Miracle Steps: Music From The Fourth World 1983 - 2017.