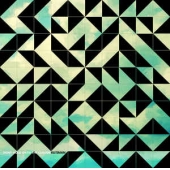 Kutiman
Don't Hold Onto The Clouds
Label: Siyal Music
Genre: Electronica / Ambient / Experimental
Availability
LP €13.49

Dispatched within 5-10 working days
Other Formats
Housed in a full colour jacket with original artwork by Kutiman.

Extremely limited edition coloured mini album + black vinyl (only 500 pressed)

Fourth release on Kutiman's own record label Siyal Music following the sold out 'Space Cassava EP', 'White Monkey' 45 and '6am' album.

In the era of the brand, KUTIMAN is an anomaly. A musician who's a video artist who's a producer who's an animator who's also the unwilling star of one of Israel's most successful recent documentaries, his every record contrasts with whatever it was that came before. But that's fundamental to his appeal: no one, not even him, really knows what to expect next. Unsurprisingly, therefore, DON'T HOLD ON TO THE CLOUDS is no different, which means it's like nothing he's ever done. Most artists would acknowledge this by working under pseudonyms, but KUTIMAN is – yes, you've guessed it – different again.

Kutiman's upcoming LP DON'T HOLD ON TO THE CLOUDS is comprised of just four tracks -- the shortest of which, 'Lucid dream', still clocks in at almost eight minutes - it orbits within reach of, among other styles, Ambient, Electronica, Minimal and New Age, but refuses to settle on merely one. The A-Side features the airy 'Behind the noise' and 'Unknown', reeling the listener into a deep and meditation. Flip it over to the B-Side and you'll find 'Mineral' and 'Lucid dream' inducing an ethereal state. This new record is unusual to Kutiman's typical style, revealing his love for the sounds of Terry Reilly, Moondog, Alice Coltrane and William Basinski.

Recorded live by KUTIMAN over the course of the last year, the album also draws upon his growing love for Indian music, and, alongside extensive use of a Juno 6, features his first, unorthodox use of a tabla he received from his mother. DON'T HOLD ON TO THE CLOUDS is meditative and enigmatic, like nothing he's done before. "I hope it will offer peace," he smiles, adding hurriedly, "not in a big global way, but just as a break from reality. If anyone feels like head banging, I'll be happy as well, but it actually helps me fall asleep. I can't say that about any other record I've made."

Black vinyl.