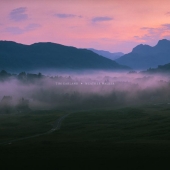 Garland Tim
Weather Walker
Label: Edition Records
Genre: Jazz / Avant Garde
Availability
CD Digi / Cardboard €14.49

Dispatched within 5-10 working days
Weather Walker, the monumental, atmospheric and unfailingly melodic new orchestral album from one of Europe's most prolific composers and instrumentalists, Tim Garland, takes its inspiration from The Lake District in the North West of England. Tim is a musician with equal talent and scope both as a performer and composer and Weather Walker showcases his sheer brilliance and ambition, confirming his reputation as one of contemporary music's most forward-thinking figures. Recorded at the iconic Abbey Road Studio 1 with a 43 piece string section, this epic production contains some of his best large ensemble writing. Uniting his regular collaborators, pianist Jason Rebello and bassist Yuri Goloubev, with a 35 piece string orchestra, Weather Walker is also a first-time collaboration with the exciting and progressive German pianist Pablo Held, a musician with an equally strong sense of harmony and freedom of expression.

For Weather Walker, the inspiration came from the Lake District, as Tim explains: 'It was at the Lakes that I first had the sensation that it is us, human beings, that nature permits to live here, and not us permitting and cultivating nature where we choose to allow it! I've felt this in lots of places around the globe since then, but because this is my home country and early memories linger, The Lakes, which has a melancholy beauty even throughout the cold grey months, remains magical. Given the inspiring visual setting of this music, it is naturally cinematic'.

The album derives its central theme from the traditional folk song The Snows They Melt The Soonest, from which Tim wrote new pieces, reworking melodic shapes and harmonic fragments. Once or twice when the orchestra play alone, it's almost as if the folk melody can be heard like a ghost over the top. The large, sweeping lines of the string orchestra represent the wide vistas encountered whilst the soloists bring a kind of intimacy, constantly changing like the perspective of the walker.

At the core of this approach is the balance between improvised and composed. As Tim explains: Sometimes the beating heart of a piece is the moment the improvisors take off on a journey of their own. Importantly there is space when the orchestra just lets us explore. This prevents the composition from becoming staid and even in the most lyrical romantic pieces, allows for some surprises and unusual turns'.

Tim Garland has built a formidable body of recorded work in his long and productive career, yet with Weather Walker he has produced a work that is undoubtedly his finest yet.