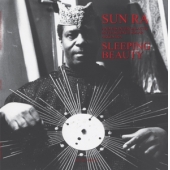 Sun Ra & His Myth Science Solar Orkestra
Sleeping Beauty
Label: Kindred Spirits
Genre: Jazz / Avant Garde
Limited repress.

This LP of Sun Ra's from 1979 marks a pinnacle in one of the Arkestra's most‐loved phases, as they embraced a funky, laid‐back groove and shuffled through three tracks of upfront bass, electric guitar, spacey Fender Rhodes, and Luqman Ali's signature late snares. With this rhythmic core, the rest of the Arkestra step up with solos, slightly out of tune harmonies, and vocal chants.

'Door Of The Cosmos' kicks the record off at a mid‐tempo pace with handclaps, vibraphones, a killer trumpet solo from Michael Ray, and a poetic chorus from June Tyson. But it's 'Springtime Again' and the title track 'Sleeping Beauty' that really steal the show, so loose that they threaten to fall apart, yet somehow the music holds together as the group rock back and forth like a hammock. It's testament to Sun Ra as a band leader that he could get such restrained yet emotional performances from the Arkestra, floating in and out of time and tune, on the edge of disintegration. 'Sleeping Beauty' stands out in Ra's massive and varied discography as a true high point, with restrained and dreamy electric piano from the man himself, and hypnotic performances from Arkestra players like John Gilmore, Marshall Allen, Francisco Mora, Danny Thompson, James Jacson, and the Disco Kid on guitar. This is the album 70's era Miles Davis and Joe Zawinul wished they could have made together, but it couldn't have come from anyone, or anywhere, else.

A favourite of producers and music lovers like Madlib, Yo La Tengo, Carlos Nino, Jimi Tenor, Tortoise, 4Hero, Kirk Degiorgio, Carl Craig, and Theo Parrish, this LP is quite simply a masterpiece, and anyone with even the slightest interest in Sun Ra and jazz should check it out. Inspired space‐age lullaby music of the highest order. Comes with extensive pictures on a printed inner sleeve.