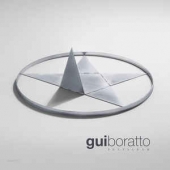 Boratto Gui
Pentagram
Label: Kompakt
Genre: Techno / Tech-House / House / Trance
Availability
LP x2 +MP3 COUPON €26.99

Out of Stock
It's been over 10 years since the release of Gui Boratto's breakthrough full length debut 'Chromophobia'. As to what its title suggests, he shook up the techno game with a contrast of lushly coloured minimal grooves and melody, whilst many will recall that the album included the highlight single "Beautiful Life" which became a dance floor anthem for that era. Four albums in and countless EPs and remixes under his belt, the Brazilian producer's unique savoir-faire in carving out a functional album out of diversely routed singles and features is back at it on his fifth studio LP, 'Pentagram'. Here Gui Boratto lays down a nuanced 12-track narrative that reinvigorates his signature sound into a refreshingly different perspective that feels all too familiar – including the return of "Beautiful Life" vocalist (and Gui Boratto's wife) Luciana Villanova on the single "Overload".

Through his signature kaleidoscopic approach, Boratto delivers an album built as a far-reaching hub-and-spoke system, broadly inclusive as can be. From the opening cut, 'The Walker' - hot on the trail of Tears For Fears 'Elemental' (one of Boratto's "favourite 80's bands") - to the hi-NRG euphoria of 'Forgotten' and its pounding tech alter ego 'Forgive Me'. "I was going into 2 different directions", Boratto says; "the typical "indie- electronic-rock" Boratto kind of production like "It's Majik" or "Like You" and a much more techno approach." He goes on, "I decided to split them into two twin sister songs. When I play live I always put these two songs together."

The Brazilian Producer further embraces the pop-friendly essence of his past work on tracks like 'The Phoenix', featuring vocalist Nathan Berger, and 'Overload', both melding acidulous synthlines with laser-precise breaks, vox hooks and drops calibrated for extended radio and club use, although sieved through his distinctive rainbow-hued musical prism. For the symbolists out there, the album's pared-down closer '618' duration accidentally happens to equate the proportions of the said pentagram. "Coincidence?" Boratto questions, and capsulises, "not so ufanista and supporter of Brazilian neo-concretism, but I guess the brazilian sculptor Lygia Clark also inspired me a lot. Not the meaning of her sculptures, but the shape of the hinge of most of her work. I've wanted to transmit the scientific pentagram's point of view. It's not a religious kind of thing."

Whereas 'Spur' (a field-tested 808 and 909-heavy "purist track", "very, very old school" Boratto insists) and 'Alcazar' are sheer smooth-edged four-to- the-floor epics, the album also shares its lot of startling moments, such as with the John Barry'esque 'Scene 2' (with a hint of Amon Tobin, 'Easy Muffin' style, throw in) and its refined string-laden buildup, 100% fitted for a 007 opening credit sequence; or with 'Hallucination' (feat B.T.) and the further James Holden-ish title-track 'Pentagram' (think 'The Idiots Are Winning'); "one of those exercises I did when I got my Buchla modular synth" Boratto analyses, "I think I've used more then 30 different snares, with different delays and reverbs. The whole song is alive". And so is 'Pentagram' in its entirety: alive and definitely just as manifold and hopeful as its architectonics are the stuff of science and dreams all at once.