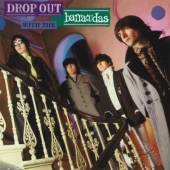 Barracudas
Drop Out With The ...
Label: Music On Vinyl
Genre: 80s Wave / Rock / Pop / Punk
Availability
LP 180gr Audiophile €20.99

In Stock
Other Formats
Drop Out with The Barracudas is the debut studio album by English rock band The Barracudas.

The Barracudas pushed a Southern California surf-rock image on their debut - there's the cover photo for one, and then there's a good chunk of the songs. Titles like the demi-hit singles "Summer Fun," "California Lament," "On the Strip," and "Surfers Are Back" are self-explanatory, while the campy "His Last Summer," detailing one dude's final big wave with Brit-accented asides, has got to win an award for being one of rock's best fake-tragedy stories.

If you like the surf and hot rod tunes of the early 1960s, you'll love the upbeat songs. The darker tunes draw you in and remind you that all is not rosy and about surf and sun.