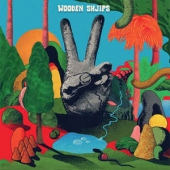 Wooden Shjips
V
Label: Thrill Jockey
Genre: Rock / Pop
Availability
CD Digi / Cardboard €16.99

Dispatched within 5-10 working days
Other Formats
Wooden Shjips, long-time leaders of the contemporary psychedelic movement, expand their sound with V. On their fifth album the quartet of Ripley Johnson (Moon Duo), Omar Ahsanuddin, Dusty Jermier, and Nash Whalen augment their already rich sound with laid back, classic summer songs. Inspired by the tumult of the modern world, and the desire to offer a contrasting vision of peace, the band has created a record that filters their trademark hypnotic grooves through an optimistic lens, resulting in music that is bright and vital.

Each song shimmers with a distinctly Wooden Shjips sound, a relaxed summer vibe. This was a conscious choice, an atmospheric goal that influenced nearly every detail: the tones, the delay types and reverbs used, as well as the synthesizer elements that color the songs.

The band's members collectively share a love of classic rock from the Velvet Underground to Neil Young, as well as more overt love of the San Francisco scene of the 60's. This commonality in their formative musical years binds them even as they live in different cities. Wooden Shjips has with V. created the most concise, laid-back songs of their career. Their music is a balm of sorts, a respite from the insanity that, through its regenerative abilities, empowers continued, calm resistance. A reminder of the simple power of peace and beauty, V. is brimming with optimism and a peaceful energy, aptly timed for release at the height of spring.