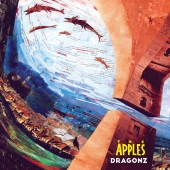 Apples
Dragonz
Label: Todres Records
Genre: Freestyle / Nu Jazz / Funk / Afro
Israeli Instrumental Post-Funk Juggernaut The Apples have been delivering genre melting, infectious grooves for over a decade.

Comprised of decks, horns, double bass, drums and tape effects, The Apples' big band vibe mixes with their Middle Eastern influences to create a signature sound.
The musicians' inspired chemistry and varied backgrounds allows them to impose the indigenous rhythms of the Middle East and the melodies of European Jewish heritage on top of American R'n'B, jazz and hip hop traditions, and enhance them with dubbed-out effects- all within the same track.

With the instinctive weaving of a dj set, they not only balance upon, but frantically run up and down the tightrope that stretches between the composed and the impromptu. Between the planned frame of a piece and the blank canvas that gives the players the space to reinterpret on the spot. The feeling that it could flow in any direction at any time and still keep a strong point of reference for the beholder's ears, feet, soul and booty.

A double bass provides a deep dark rumble snaking between heavy drum beats. The horn section at times tight and stabbing, at times a warm blanket of sound. All centered around hip hop's first original instrument- the turntable- whose vinyl sources cover any and all of the aforementioned fields and much, much more, drawing on every corner of recorded audio history.

Rather than rely on their usual full band, live performance, one-room live single recording session, the making of 'Dragonz' was a departure for The Apples.

A multi-studio project spanning three continents, they assembled new instrumental tracks based on loops created in the studio and presented them to a wide-ranging selection of vocal collaborators to complete the picture with, and applied this method to the capturing of longstanding live favourites as well.

The concept of a vocal album was implemented on non-vocalist songs as well, treating the omnipresent turntables' sample work not as the central element to the band, but rather its frontman.

Though containing disparate influences, guests and production methods, 'Dragonz' is undeniably Apples, might be their most focused LP to date, and it is certainly their most middle-eastern.