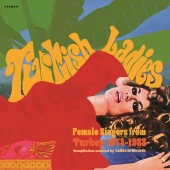 Various Artists
Turkish Ladies
Label: Epic Istanbul
Genre: 60s / 70s Rock / Pop / Progressive / Kraut
Turkish Ladies. Female Singers from Turkey 1974 – 1988 is a first ever compilation of female music from Turkey from 70s and 80s.

Sony Music Turkey and Ladies on Records deliver a compilation emerged from deep and profound listening to the message of Turkish female singers. Created from music archives of old Turkish labels (Elenor, Türküola, Şah Plak) under licensing umbrella of Sony Music Turkey, the compilation captures the broad diversity of music performed by Turkish women. Sweet melodies and heartbreaking dramas are captured in edgy arrangements and compositions with eccentric synthesizers, mesmerizing arabesque string orchestras, wakawaka funky guitars and narcotizing rhythm sections of darbukas and drum sets. Get surprised by a variety of influences and fusions – from classical Türk Sanat, Argentinian tango, Spanish flamenco, Egyptian classical orchestras, traditional folk songs to worldwide popular disco, psychedelia, funk in unique local setups from late 70s and 80s.

The album is a selection of the Turkish female music scene and less-known singers – Huri Sapan, Handan Kara, Gönül Yazar, Esmeray, Neşe Alkan, Gülden Karaböcek, Gül Sorgun, Ferda Gül, Dilber Doğan yet to be discovered by international audience. All the singers performed in Turkey in 70s and 80s, never got recognition outside the country.

Glorious 3 wings gatefold LP and CD booklet with profound liner notes telling the fascinating story of women in Turkish music in 70s and 80s, inner sleeve with lyrics in both Turkish and English. The artwork of the whole compilation combines the aesthetics of the 70s and 80s with respect to picturesque Ottoman tradition.

Curated and compiled by Ladies on Records AKA Kornelia Binicewicz, Polish curator and DJ, based in Istanbul exploring female music from 60s, 70s and 80s.