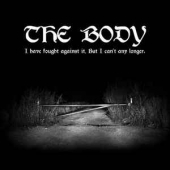 Body
I Have Fought Against It, But I Can't Any Longer
Label: Thrill Jockey
Genre: Industrial / Post Industrial / Experimental
Availability
LP x2 €24.99

Dispatched within 5-10 working days
Absolutely no one makes music like The Body.

On their follow up to 2016's acclaimed No One Deserves Happiness, the Portland duo of Lee Buford and Chip King conjure the sublime from the unexpected by turning their compositional approach on its head. The Body continues to defy the constraints of what it means to be a "heavy" band, seamlessly combining diverse influences for an utterly singular sound. The album's contributors include Kristin Hayter (Lingua Ignota), Michael Berdan (Uniform), and Ben Eberle (Sandworm), as well as frequent collaborator Chrissy Wolpert (Assembly of Light Choir). Production was handled by Machines With Magnets (Lightning Bolt, Battles).

The Body transcends musical boundaries. Their ambitious creativity shapes their bleak worldview into propulsive, affecting, and even danceable music often drenched in distortion. The Body will be touring throughout 2018, including appearances at Roadburn and Sled Island festivals.

The Body has recently collaborated with Full of Hell, Thou, Krieg,
Haxan Cloak, and Wrekmeister Harmonies.