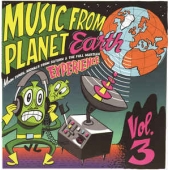 Various Artists
Music From Planet Earth Vol. 3
Label: Stag-o-lee
Genre: 60s / 70s Rock / Pop / Progressive / Kraut
Availability
10" €19.99

Dispatched within 5-10 working days
It's a perennial starting point for conspiracy theories, the perfect excuse for lost homework or any kind of irrational behavior. Alien intervention solves everything. Things from other planets are a sustainable reason to many unanswerable questions and, across the music industry in the late '50s and early '60s, in the wake of a slew of space-based exploitation movies, a series of 45s and suitably unearthly concept albums emerged to capitalize on this burgeoning, bizarre and mysterious idea.

Everyone was viewing far off planets with wonder, amazement and the occasional well-directed sound effect. No-one really knew what aliens could do, so the potential for music to accompany whatever they did was limitless.

Over 50 years after these sides were released in a fit of futuristic creativity, we're still asking about the potential of water on Mars, puzzling of the rings of Saturn and wondering if anything really did happen at Roswell. "Aliens stole my dog" screams the headline in the National Enquirer. Of course they did.

Third in a series of three 10"-es!
Each 10" comes with a signed & numbered 24 x 24 cm screen print of the front cover drawn by well-known artist Marcel Bontempi!