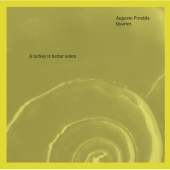 Pirodda Augusto Quartet
A Turkey Is Better Eaten
Label: El Negocito Records
Genre: Jazz / Avant Garde
Availability
CD Digi / Cardboard €12.99

In Stock
Recording a Trio CD with sidemen the likes of bassist Gary Peacock and drummer Paul Motian? No, not only Keith Jarrett has taken that opportunity. The Italian Brussels based Augusto Pirodda must be about the best kept secret in the Belgian jazz scene.

Augusto Pirodda knows how to choose his fellow musicians well. The Italian bass player Manolo Cabras has been for over 20 years at his side. Cabras has been on stage and recorded with the Toots Thielemans Quartet, Manuel Hermia Trio, Erik Vermeulen Trio ... Czech drummer Marek Patrman travels all over Europe, but is also an indispensable musician on the Belgian jazz scene. Cabras and Patrman are the proverbial 4 peas in a pod. They form the rhythm section in lots of formations like the Ben Sluijs Quartet, ... Quartet and Erik Vermeulen Trio. Ben Sluijs, one of Belgium's most lyrical and poetic jazz saxophonists makes the quartet complete.

On piano Pirodda's playing (often simple and melodic, but also at times impetuous and nervous) fits remarkably well with the musical sensibility of Ben Sluijs . The contrast between these two worlds makes their music very open and unpredictable. Cabras and Patrman, who can take both a leading or a supporting role can ensure that piano and sax enjoy maximum freedom . In short, the Augusta Pirodda Quartet makes music that is constantly evolving and feeds the creativity of all four musicians.