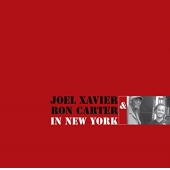 Xavier Joel & Carter Ron
In New York
Label: Galileo
Genre: Jazz / Avant Garde
All compositions by Joel Xavier

Joel Xavier - guitar
Ron Carter - double bass

...I have been on hundreds of recording sessions, but not many have been as much fun, ore rewarding musically as recording with Joel Xavier." - Ron Carter

Joel Xavier is respected as one of the best latin-jazz guitarrists and is probably Portugals best jazz guitarrist. He played with jazz musicians like Toots Thielemans, Larry Coryell, Michel Camilo, Arturo Sandoval, Paquito D`Rivera, Richard Galliano, Bireli Lagrene, Joey DeFrancesco, Tomatito, Didier Lockwood, Luís Salinas, Rene Toledo and many others. At 23, is selected as one of the best latin guitar players of the World along with Larry Coryell, Bireli Lagrene, Tomatito, Luis Salinas and Rene Toledo to record "Palabra de Guitarra Latina" for BMG-Spain.