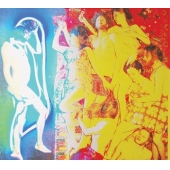 Me And My Kites
Natt O Dag
Label: Sound Effect
Genre: Rock / Pop
Availability
CD Digi / Cardboard €11.99

In Stock
Sound Effect Records presents "Natt o Dag", Me and My Kites brand new studio album! "Natt o Dag" is possibly the Swedish collective's best so far. Darker, moodier and filled with some irresistible pop-hooks, "Nat o Dag" is destined to become a modern psychedelic classic.

Natt o Dag is a flower common in the Swedish forests. Its purple and yellow flowers represent night and day and the idea of this two sided record took place in a huge patch of these flowers on a lonesome bike trip on remote paths some two Summers ago.

Me and My Kites is a Swedish hippie pop group, heavily influenced by the flourishing psychedelic movement of the sixties, with a touch of folk music. It's a bit of a collective, with a solid core of eight people that has been the live band in the last years. Since the start in 2012 they've released two albums, this being the third one. Natt o Dag takes you on an adventure a bit darker than the earlier Me and My Kites' records. Keyboard instruments like the Mellotron, piano and electric harpsichord are allowed more space. The arrangements are dynamic and full, with ten people's voices adding their colours. The songs vary between short melancholic instrumentals and longer, fairytale-like compositions. The final track may be the heaviest from the band so far, a long repetitive journey that builds up and resolves. The main parts of the drums, the piano and the vocals were again recorded at the Brottby cottage, in the countryside north of Stockholm, in the cold, dark Winter. The flowery colours were added the following Summer, in a caravan in the garden of the band's collective Summer cottage. Yet another night and day. For those who might wonder, here's the English translation to the two tracks given Swedish titles: track five "A Very Special Sea Party" and track ten "You Can take Everything Out of the Earth and Use it, but it won't Come Back" - from there it's up to your imagination.