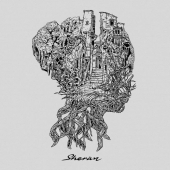 Mononome
Sheeran
Label: Mononome
Genre: Freestyle / Nu Jazz / Funk / Afro
Availability
CD Digi / Cardboard €11.99

In Stock
After a hiatus of almost 3 years and while contributing in to various compilations and collaborative releases as well as touring throughout Europe, March 2018 marks the release of mononome's newest project, Sherán.

Being a self-demand to strive away from standards so far, as well as from his significant sound and groove he set sails for further experimentation. Sherán demanded for a whole different approach to sampling than his previous projects. Far from overplayed drum breaks and loops the idea behind this particular project was to "cut" and "chop" as much as possible.

Deriving out of a near innumerable bits of record samples, drum-lines become a patchwork of kicks, snares, hi-hats and percussive instruments chopped in such a heavy manner that the outcome comes to be as obscure as well as "unique" in most cases. Mainly laying them down in heavily abstracted ways, drums are clearly the protagonist, standing diverse while firm in the foreground of this farrago of sonic scapes.

While being intentionally out of his comfort zone, the way chosen to record and arrange the whole project remained familiar. Records on top of records fed into an AKAI MPC sampler. In most cases digging went deeper in view of the fact of having to extract pure solo sounds from each finding for the majority of the tracks, thus becoming more targeted and time consuming. From folklore Bulgarian instruments to Middle-eastern percussion and from Romanian Jazz to Italian spy-movie themes each sound bit that make up the entirety of this record was picked carefully as well as purposely so to serve the meaning behind the project's title.

If we were to transform the sonics of "Sherán" into moving images these images would be those of a runaway trying to leave behind all the shadows that one can only see by himself. The title actually consists of two words -she ran- bind into one, while Sheran also stands as a first name in the Armenian language meaning "she who is beloved/worthy of love". With that amount of minimal information provided around the concept and title of the record it is up to every individual's perspective of imagination to follow up and unravel unique stories, idiosyncratic, divergent.