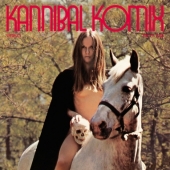 Kannibal Komix
Kannibal Komix
Label: Vinilisssimo
Genre: 60s / 70s Rock / Pop / Progressive / Kraut
Availability
LP €21.99

Dispatched within 5-10 working days

Changing the original artwork of an album in certain territories was common practice back in the day, but using different band names in different countries is definitely something else. Die Anderen may or may not ring the bell, what about Kannibal Komix or Apocalypse? Well, they are exactly the same artists.

They got together in the north of Germany after meeting in a talent show called Beat-Band-Ball in 1966. Jürgen Drews met the members of Chimes of Freedom, the winning band, and simply asked to join them as lead guitarist. Not long after, the manager renamed the group as Die Anderen and sent them to the recording studio with the great Giorgio Moroder, Ariola's in-house producer at the time, and a whole album was made. This was obviously much earlier than Moroder's Munich Sound days, so there are no traces of Italo disco gimmicks here but good portions of fuzzy guitars instead... In fact, the anthemic Kannibal Komix song 'Neurotic Reaction', produced by Moroder in these sessions, deserves to be included on a garage compilation next to classics like 'Try It' by The Standells... Maybe this explains why they were spotted at Hamburg's Star Club and picked by some American managers to sign a deal with Colossus Records. Their almost perfect vocal harmonies and soft psych tunes spiced with a pinch of fierce guitars made the band sound very interesting for the US market but the group needed a new name: Kannibal Komix (or Apocalypse in other territories). A second album followed but nothing really happened despite rising high expectations, and the band split by the end of 1969, almost at the same time that their second album hit the shops worldwide.

While 'Neurotic Reaction' would be a perfect choice for an European "nuggets" comp, there is much more to this album than just that standout track. 'Cosy Rosy' leans towards prog sounds while keeping some solid pop elements that recall the best of the British Invasion, 'Elenor' is an almost perfect match between orchestral arrangements and the dramatic voice of band leader Jürgen Drews, resulting in a three minute psych-pop delight... And the remaining nine tracks are further top quality examples of the sort of sounds that made the late 60s such an exciting time, from tender moments to raw energy, always imaginatively arranged and performed.