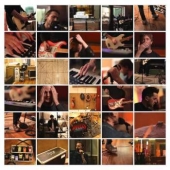 Wild Beasts
Last Night All My Dreams Came True
Label: Domino
Genre: Rock / Pop
Availability
LP x2 +MP3 COUPON €24.99

In Stock
'Last Night All My Dreams Came True' is a career- spanning collection and features songs from each of Wild Beasts' studio albums, with an emphasis on 'Boy King', their most direct record yet.

Looking back on Wild Beasts' back catalogue and the themes they tackled, there is a sense of prescience - toxic masculinity, gender fluidity, the conflicts surrounding class, politics and art were no bandwagon jumps, often becoming hot topics in the media several years after they'd been eloquently dealt with on record.

Recorded in two days over the Summer at RAK Studios, 'Last Night All My Dreams Came True' is the second official Domino Documents release and has more than fulfilled the Domino Documents aim to capture a band at the height of their powers, recording a selection of their finest songs.