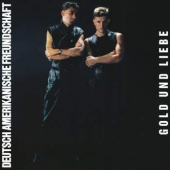 Daf
Gold Und Liebe
Label: Gronland
Genre: 80s Wave / Rock / Pop / Punk
Conny Plank again oversees an album from the duo, while the photo on the front of Görl and Delgado in what looks like modified bondage gear maintains the sex theme well enough. Put it all together with song titles like 'Sex Unter Wasser' and 'Absolute Körperkontrolle' (Absolute Body Control) and DAF are tending that much more to the flesh rather than the mind.

Opening track 'Liebe Auf Den Ersten Blick' has a bass / melody combination that could almost be early Depeche Mode. Most of the time, though, it's only a slight difference by degrees, as pounding monsters like 'Ich Will' and the instrumental build of 'Absolute Körperkontrolle' demonstrate. Görl's music generally still relies on his forceful percussion and sharp, cutting synth bass in combination and Plank once again makes it sound fantastic.

'Gold Und Liebe' closes out on a fantastic note with 'Verschwende Deine Jugend', a full-on destructive beast in the 'Der Mussolini' mode and 'Greif Nach den Sternen', a steady-paced, almost anthemic number with the trademark DAF blend of brusqueness still intact.