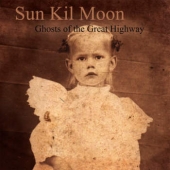 Sun Kil Moon
Ghosts Of The Great Highway
Label: Rough Trade
Genre: Rock / Pop
Availability
LP x2 €23.99

Out of Stock
An album as good as 'Ghosts Of The Great Highway' should never go out of print. Ghosts continues - even finetunes - the work Kozelek did with his former band, Red House Painters.

These songs are virtuously stoic Americana-- all shimmery guitars, measured tempos, malevolent moods and wandering melodies.

His voice sounds like Neil Young's, especially in the effortlessness with which he hits the high notes then returns to a lower, earthier texture.

'Ghosts Of The Great Highway' is a travelogue of sorts, speeding through the Midwest and the West; in this sense, it's the male equivalent to Lucinda Williams' 'Car Wheels On A Gravel Road', especially in the imperfect mirroring of physical terrain and emotional geography.

The band Kozelek assembled for Ghosts - Anthony Koutsos (Red House Painters), Tim Mooney (American Music Club) and Geoff Stanfield (Black Lab), along with a few guests - ably but subtly bolster his lyrics and vocals, generating a steady clip that never flags. The result is an album as hypnotic as highway divider lines whizzing past.

Includes original bonus track 'Gentle Moon (Acoustic)'.