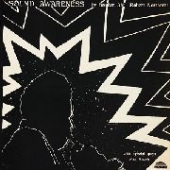 Brother Ah
Sound Awareness
Label: Manufactured Recordings
Genre: Jazz / Avant Garde
BROTHER AH - SOUND AWARENESS

LP (12"/10" Album)

Login for pricing & ordering.



Label: MANUFACTURED

Release date: 05/08/2016

Barcode:

Catalog no.: MFG0000037

Item ID: 436938

Brother Ah's first solo recording, 'Sound Awareness' was released on the Strata East label in 1972. By this time, Ah had recorded extensively with the Sun Ra Arkestra and his solo work continued the boundary-pushing approaches he explored with that ensemble. Consisting of two side-length tracks, 'Beyond Yourself (The Midnight Confession)', and 'Love Piece', the album features notable appearances by percussionist Max Roach and the M'Boom Re:percussion Ensemble, as well as a 90-piece vocal choir.