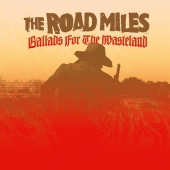 Road Miles
Ballads For The Wasteland
Label: Archaeopia
Genre: Rock / Pop
Availability
CD Digi / Cardboard €11.99

Dispatched within 5-10 working days
"The man in black fled across the desert and the gunslinger followed. The desert was the apotheosis of all deserts, huge, standing to the sky for what looked like eternity in all directions. It was white and blinding and waterless and without feature save for the faint, cloudy haze of the mountains which sketched themselves on the horizon and the devil-grass which brought sweet dreams, nightmares, death."

It is not by mere chance that master author Stephen King chose this exact description to open his most celebrated work to date, The Dark Tower saga. Great storytelling had always been affiliated with the strong presence of an iconic place, an instantly recognizable and memorable landscape. The maddening mountains of H.P. Lovecraft, the soul-stirring ocean of Herman Melville, or in this case, the archetypal desert. Hallucinogenic, forbidding, unending.

In their sophomore album, The Road Miles adopt an almost cinematic approach to their sound, transferring the auditor straight to the heart of that very desert. Here, every twist and turn of a desert travelogue can be experienced through music: the wearing route, the mortal hazards, the otherworldly delusions. Skillfully maneuvering from electrifying blues to nostalgic americana and explosive heavy psych to wistful spoken word, the band perfectly captures the feeling of being adrift in such vast wastelands, in a psychedelic loop of fantasy and death.

However, The Dark Tower influence functions as a mere sparking, a beacon of inspiration. Because in Ballads for the Wasteland The Road Miles unveil their own distinctive narrative. A thrilling narrative, developed through seven heartfelt, esoteric mantras. A narrative of hollow outbursts and deafening silences. A narrative built with the same raw materials as every western myth: a gun, the dust and the open horizon.