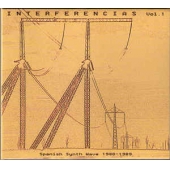 Various Artists
Interferencias Vol. 1 - Spanish Synth Wave 1980-1989
Label: Munster
Genre: 80s Wave / Rock / Pop / Punk
Availability
LP x2 €26.99

Dispatched within 5-10 working days
Some visionaries endeavoured to show us, in a display of perseverance, what the future would be like. From the margins, they opened the doors to electronic music, embracing melody and a rhythmic and danceable structure. At the dawn of synth pop, an army of machines was ready to inflict a strange defeat on rock. Traditional music from that era could be set ablaze thanks to the new artistic channels that the democratic transition in Spain had forged.

Synth pop settled in the urban centres of major cities across the Iberian Peninsula; a feverish start to one of the few labels we can claim as genuinely Spanish: tecno pop. An Iberian version of the minimal synth sound that was all the rage in the late 70s and early 80s, a style which encompassed a range of subgenres, some incredibly dark, minimalist and almost cybernetic. Initially, there was total mimesis, and key references came from Europe, Japan and the United States. Records by Cabaret Voltaire, Japan, Heaven 17, Brian Eno, Depeche Mode, Human League, Soft Cell, DAF, New Order, The Residents, Ultravox or Devo were cherished. But film, poetry and fashion were also strong influences clearly reflected in the songs of the emerging groups.

Many had to survive the catacombs of the underground and swim the demo tape oceans, without releasing a single record, victims of the record companies' inability to understand what was brewing across the country, although shortly after this rich seam would be exploited to the extent that bands that had only played a couple of times were signed up. Meaning was lost when money was thrown at it.
This collection seeks to redress the lack of media impact that some of these groups received, as the press failed to embrace the change of direction that they signalled; a small cultural leap forwards was happening. Only a handful of radio and television shows and certain club managers bet on groups whose recordings were shining examples of that era, symbols that determined the evolution of contemporary and popular music in Spain. These groups released records of the same standard as some foreign releases, even though they lacked technical media and had less musical knowledge. Everything was done without the infrastructure and support of a modern music industry, as the latter was non-existent.

This new generation wanted to break away, some more coherently than others, from the staleness of times past and totalitarianism. Boundless enthusiasm and energy eventually ushered in the new wave, charged with synthetic rhythms, where guitars took second place to a whole range of synthesizers and drum machines. In the Spain of that time, which was still negotiating at the highest levels to qualify as a member of the European Economic Community, most projects did not receive the diffusion they deserved. Many opted to scrape by, living on the edges, signing to small labels or setting up their own label; a platform from which they could get their music out. The DIY spirit proclaimed by the punk movement had become a sign of identity for the first untamed generation in forty years.

"Interferencias" offers the opportunity to discover tracks that had little impact when they were first released and were then overlooked and even forgotten by most people. This volume is not an amalgam of relics from the past, but a living record that helps us understand that recent past and the world of today. It enables us to break away from dominant culture that only reclaims what interests some people. The range of groups on this collection is impressive and the songs selected melodies and catchy, arithmetic rhythms. These songs reflect a decade.