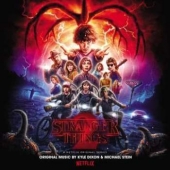 Dixon Kylie & Stein Michael
Stranger Things 2
Label: Invada
Genre: Soundtrack
Availability
LP x2 180gr €34.99

In Stock
Limited colored vinyls.

Kyle Dixon & Michael Stein of Texas band SURVIVE return to score Stranger Things 2, the follow up to their EMMY winning and GRAMMY nominated score to Stranger Things 1.

Their second time around once again steers away from cliché, maintaining the pace they've set for themselves while subtly shifting tactics just enough to keep fans hooked.
Their lush, deep music quickly shifts with jarring synth blips and misty, creaky chords whilst slowly descending into darkness.

This score will appeal to fans of Stranger Things 1, Drive OST, John Carpenter, Tangerine Dream, Trent Reznor & more.