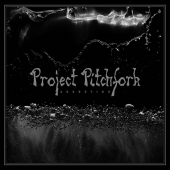 Project Pitchfork
Akkretion
Label: Trisol
Genre: Electro-Industrial
Availability
CD Digi / Cardboard €16.99

Dispatched within 5-10 working days
From the stars we come, and to the stars we return. Every end is a new beginning – an eternal circle of creation, birth, and death, while the universe expands onward. Peter Spilles knows exactly what this means: it is a theme he has wrestled with for years. And in 2018, dark electro's biggest visionary is tackling these topics with a boldness and clarity like never before. In a spectacular new trilogy, he once again reminds us why PROJECT PITCHFORK were, are, and always will be dark music's figurehead.

Big talk, sure. And yet, Spilles is more than ready to live up to it. In an almost uncanny fashion, he still is the inspired, game-changing and influential artist he was 25 years ago – delivering milestone after milestone for the electronic music movement. Little more than a year ago, he touched us with the highly emotional record Look Up, I'm Down There. Building on that introspection, he summons an energy more star-powered than star-crossed in his latest release. With Akkretion, the first part of his ground-breaking new trilogy, Spilles dedicates his artistic craft to the idea of genesis: the birth of suns and their planets, the essential foundation of all there is.

Before the releases of Fragment and Elysium in upcoming months, Akkretion provides an overture to this trilogy, taking us deep into endless space, between the voids in the stars. Out there, where suns are born only to die, where time and space are not yet a reality, Akkretion carves a fertile space. It's a cosmic electronic opus of epic scale, as weightless as outer space, as fascinating as its celestial wonders, and as darkly shimmering as the infinite night. With skill and prowess, Spilles weaves epic sound galaxies that encompass both the glimmer of distant stars and the pulse of spiral nebulas. Endless and alien, yet full of human warmth, empathy, and compassion. Where macrocosm and microcosm unite, Akkretion unfolds. This album isn't just an auditory experience but a physical one—a feat that is among the trilogy's biggest strengths. It's a mesmerising experience with cinematic scope, futuristic soundscapes, and aggressive muscle.

One thing is for certain: this triptych will redefine dark electro. It's no surprise that the source of this innovation is Peter Spilles, who helped create and define the genre. He is once again taking the role of innovator, gracing Akkretion with everything from monumental melodies to to the dark throb of club zeitgeist. It explores all the dimensions of birth: how love gives birth to hate, joy gives birth to grief, death gives birth to life. As versatile, as beautiful, as tragic as life itself, looking outward as well as inward, Akkretion pushes PROJECT PITCHFORK into a new frontier, once again. Everything was, everything will be, and everything is. This is only the beginning.