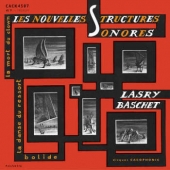 Lasry Jacques / Baschet Francois
Les Nouvelles Structures Sonores
Label: Cacophonic / Finders Keepers
Genre: 60s / 70s Rock / Pop / Progressive / Kraut
Availability
7" €11.99

Dispatched within 5-10 working days
As a truly indispensable bookend to any listeners with the slightest interest in experimental music, French culture or the foundations of mechanical songwriting, this inaugural release by these Parisian musical revolutionaries not only predicts the future sound of modern composition by almost 60 years but detangles the deepest roots of European popular culture celebrating an important historical family unison in the process. Combining the infant steps of Magma, the sonic blueprint of 1970's TV theme 'Picture Box' and the sculptural creations of Polly Maggoo, this important and groundbreaking EP takes us back to the very first aural glimpse of the future of pregressive Europe at the hands of physical sound sculptures glaring in the face of premature technology.

This EP and its varied three-pronged assault is the first step in the legacy of the Lasry Baschet unison uniting the husband and wife team of Jacques and Yvonne Lasry plus their son Teddy (who would later create Magma with Christian Vander) and hard material sculptors François and Bernard Baschet (who would later work with William Klein). It was this creative unison between visual art and experimental music - witnessing the Lasry family exchange their orthodox music skills in favour of crystal rods, balloons, wet bows and metal sheets - that would potentially change the course of European music which was already on the extreme verge of electrocution with the rise of tape music and embryonic synthesised instrumentation.

Promoting the phrase Instruments Non-électroniques, the Lasry- Baschet collective's humanistic music (an attitude upheld by composers like Michel Magne) would later spark the imagination of Jean Cocteau, leading to installations at the Museum Of Modern Art leading to a huge shift in the way people approached experimental melodic music alongside the efforts of Harry Partch and other music machine makers. The appropriation of their music in art, theatre, ballet, film and television came closest to UK shores when their composition 'Manège' was used as the long running theme for the children's TV compendium 'Picture Box', spanning three decades (rivalling both 'The Moomins' and 'The Booktower' for the most indelible and nostalgic spooky theme tunes in the history of British TV) by which time Teddy Lasry had independently become one of France's most creative instrumental composers of all time.