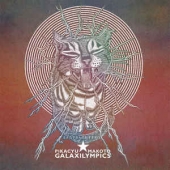 Pikacyu Makoto
Galaxilympics
Label: Upset The Rhythm
Genre: Post Rock / Avant Rock
Availability
LP €19.99

Dispatched within 5-10 working days
As a duo they embrace both sides of the coin, drums and guitar, chaos and order, male and female, ying and yang, the angel and the devil. They are more than the sum of both counterparts though, making for a maximalist auditory experience. PIKA brings her skills of mystifying performance to the table, all free-drum bluster and vocals veering between shrine maiden and wild spirit. Kawabata's guitar-work moves from a roar to a whisper, a yell to a sob, he's working on the same canvas of extremes. The aim of their unity is to write truly celestial hymns for the outer world and odes of love for the inner cosmic context.



No strangers to one another, the pair have not only gigged together with their respective bands but also recorded together, when these two outfits temporarily fused in 2005 to become Acid Mothers Afrirampo (releasing an album of the same name). Two years later they distilled their collaboration, all other players being stripped away to leave the core of Pikacyu's manic drums and pop vocal, and Makoto's schizoid guitar conjurings. In 2011 they spent five weeks touring the US and their first album, 'OM Sweet Home: We Are Shining Stars From Darkside', which was released by the esteemed UK label of all things heavy and brilliant, Riot Season. Last year they spent two weeks touring through Europe whilst writing a new album suffused with the outreaching sound and message of their impulsive live performances.


'Galaxilympics' is an album of contrasts, so much colour, so much shade! 'Space Sumo' kicks off the record in explosive style. Pikacyu's drums jitter, crash and stumble, but steadfastly refuse to groove. Makoto attacks his guitar, cloaking himself in reverb to produce a wall-of-sound, alternating between melody and noise. 'Funifunikonefuni' follows with it's frenzied take on pop music, bubbling with energy and PIKA's multiple vocal layers. 'I'll Forgive' is chant-like in its devotion to following the tumbling melody line of the song even to absurd and unpredictable dimensions. 'Pika Mako Hall' is a more serene affair, with whispered echoes and guitar drones swirling amongst bursts of rapid sequencer ambience. 'Castle Of Sand' picks up on this more spacious approach with slowly developing programmed electronics, before the title track erupts with gurgling synths, soaring guitar trails and PIKA's most searching vocal yet.