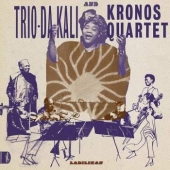 Trio Da Kali & Kronos Quartet
Ladilikan
Label: World Circuit
Genre: World Music
Availability
CD BOOK €15.49

Out of Stock
You take a trio of the finest traditional griot musicians from Mali and put them in a studio with western music's most revolutionary Western string quartet – and the resulting album is one of the most richly rewarding musical collaborations you are likely to encounter.

Together the Kronos Quartet and Trio da Kali have created an album that is rich in texture, hauntingly melodic and strikingly inventive as violins, viola and cello combine with balafon, ngoni and the powerful female voice of Hawa 'Kassé Mady' Diabaté in transcendental style.

David Harrington, who founded the Kronos Quartet in 1973, describes the album as "one of the most beautiful Kronos has done in forty years."

All three Da Kali members come from hereditary musical families; Balafon player and musical director Lassana Diabate was a long-time member of Toumani Diabate's Symmetric Orchestra and has recorded with Salif Keita, Taj Mahal and many others. A musician of great subtlety and invention he has honed a virtuoso two-balafon technique to perfection. Bass ngoni player Mamadou Kouyaté is the eldest son of the instrument's greatest exponent, Bassekou Kouyaté and he holds down the groove in his father's band 'Ngoni Ba'. Singer Hawa 'Kassé Mady' Diabate is the daughter of Mali's greatest traditional singer, Kassé Mady Diabate, and the power, range and phrasing of her voice led David Harrington to compare her to the late queen of American gospel, Mahalia Jackson.

Kronos Quartet have earned an enviable reputation collaborating with contemporary composers such as Steve Reich, Philip Glass, Terry Riley and Laurie Anderson and with world music icons from Argentinian tango hero Astor Piazzola to Bollywood singer Asha Bhosle. They have worked with a breadth of artists, including Arvo Part, Tom Waits, Big Star, Rhiannon Giddens and Clint Mansell. Their film work includes 'Heat', 'Requiem for a Dream', 'The Fountain' & 'The Great Beauty'

Includes stunning 16 page booklet.