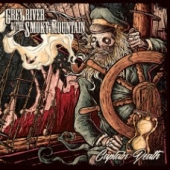 Grey River & The Smoky Mountain
Captain Death
Label: Ikaros
Genre: Rock / Pop
Availability
LP €17.49

Dispatched within 5-10 working days
Limited to 250 copies.


Δέκα ιστορίες για τη σκοτεινή πλευρά του ανθρώπου, την διχασμένη φύση του, την ισορροπία των αντιθέτων, την φθορά και την ελπίδα, την αναγέννηση από τις στάχτες…



Είμαστε όλοι μέλη του ίδιου πληρώματος, στο ίδιο ταξίδι, με τον ίδιο καπετάνιο…



Οι Grey River & The Smoky Mountain είναι μία τετραμελής μπάντα από την Αθήνα, η οποία δημιουργήθηκε το καλοκαίρι του 2014. Όπως προδίδει το όνομα τους κινούνται ανάμεσα στην Americana, το Folk και την Bluegrass αναμειγνύοντας συχνά στοιχεία Ιρλανδικής και Ευρωπαϊκής παραδοσιακής μουσικής.

Τον Μάρτιο του 2016, κυκλοφόρησε το πρώτο τους EP με τίτλο «Something's Wrong», το οποίο περιλαμβάνει 4 κομμάτια ενώ το «Captain Death» είναι το πρώτο τους LP.