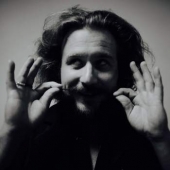 Jim James
Tribute To 2
Label: Ato
Genre: Rock / Pop
After releasing the politically charged solo album 'Eternally Even' in 2016, My Morning Jacket frontman Jim James returns with 'Tribute To 2', a collection of cover songs that reverberate with hope.
Unlike his 2009 mini album of songs by George Harrison and the Beatles, 'Tribute To', which was recorded on an eight-track, reel-to- reel tape recorder in the days following Harrison's passing, the 11 songs of 'Tribute To 2' were recorded over a period of years, in different places, with different gear and varied instrumentation. James explains, "These are some of my favourite covers - songs I recorded trying to bring myself peace during a rough time or trying to make myself laugh or just have fun. I hope others can relate and enjoy the journey during these tough times and hopefully in times of peace and love as well!"
James has spent the better part of almost two decades as the lead singer, songwriter and multi-instrumentalist of My Morning Jacket. Hailed by The New York Times as "the new kings of expand-your- mind, religious-experience rock," the band have released seven studio albums with the last three - 2008's 'Evil Urges', 2011's 'Circuital' and 2015's 'The Waterfall' - each receiving Grammy nominations for Best Alternative Album.
Jim James' 2013 debut solo album, 'Regions Of Light And Sound Of God', was named as one of the best albums of the year by numerous critics. 'Eternally Even' followed in 2016 and debuted at No. 1 on Billboard's Alternative Albums chart.
James has contributed to albums by such artists as The Roots, David Lynch, Brandi Carlile and John Fogerty and partnered with others on side projects such as New Multitudes, Monsters Of Folk and T-Bone Burnett's The New Basement Tapes. He has produced Preservation Hall Jazz Band, Dean Wareham, Basia Bulat and Ray Lamontagne's most recent record 'Ouroboros'. In 2016, he collaborated with NASA for the launch of their Juno Mission and with Sundance Film Festival on their Freedom Of Expression event.