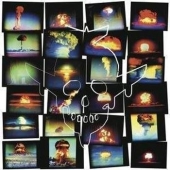 Pete International Airport
Safer With The Wolves ...
Label: A Recordings
Genre: Rock / Pop
Availability
CD Digi / Cardboard €12.49

Dispatched within 5-10 working days
Other Formats
Peter Holmström named his solo project Pete International Airport after a song by his other band The Dandy Warhols. Safer With The Wolves…' is a meticulously crafted psyche rock journey into the dark heart of electronica upon which Peter has enlisted the help of numerous like-minded musical allies. One of which, if you're to believe a certain infamous rock documentary called Dig! is an unexpected union; the Brian Jonestown Massacre's Anton Newcombe is releasing 'Safer With The Wolves…' on his own record label A Recordings.