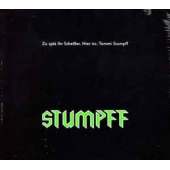 Stumpff Tommi
Zu Spat Ihr Scheisser. Hier Ist: Tommi Stumpff
Label: Danse Macabre
Genre: 80s Wave / Rock / Pop / Punk
Availability
CD Digi / Cardboard €16.99

In Stock
Other Formats
In the beginning of the 80's, Tommi Stumpff was the singer of the Düsseldorf-based punk band Der KFC, one of the most hated punkbands around. Born in Belgium, he got in contact with Belgian industrial and proto-EBM soon and started a very successful solo-career in this field.
He was years ahead of his time with his sound and his 5 albums were not really big 'commerical Successes', but incredibly influential on the scene and he is being venerated as one of the biggest geniusses in EBM/Industrial by many artists in the scene!
First to be released is his groundbreaking album from 1982: "Zu spät ihr Scheißer" (loosely to be translated as 'Too late you suckers. Here is: Tommi Stumpff!') which was recorded with analogue syntesizers exclusively.