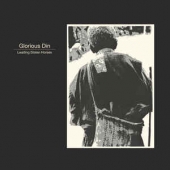 Glorious Din
Leading Stolen Horses
Label: Onderstroom
Genre: 80s Wave / Rock / Pop / Punk
How a boy from the Sri Lankan jungle formed the greatest post-punk band you've never heard.


Fronted by an intense singer with an oblique songbook and a mysterious past Glorious Din were unlike any other group to emerge from San Francisco's '80s underground. With singer Eric Cope, the chosen persona of a Joy Division-obsessed Sri Lankan boy who travelled halfway around the world to follow his punk dream.



The multifaceted nature of the '80s scene – encompassing everything from three-chord thrash punk to garage-band pop, experimental art rock and atonal noise, all created by bands with overlapping memberships – can seem baffling to outsiders. Of the many acts clamouring for attention, Glorious Din was perhaps the best, their mesmerising sound instantly getting under the skin via their non-standard drum patterns, eastern-sounding guitar melodies, a melodic bass in pole position, and a dissociative foreign singer who intoned prophetic poems in a trance. The enigmatic group acted as a catalyst too, helping total unknowns to gain recognition and being the uncommon glue linking Faith No More, the Dead Kennedys and Michael Franti, as well as R.E.M and the Cocteau Twins, such is the reach of their influence.



The music of the '80s counterculture thrived in peripheral spaces, and part of Glorious Din's appeal was their mysteriousness: a quartet of mismatched musicians not necessarily playing their chosen instruments, with the obscure lyrics of their intense frontman near impossible to decipher. The group imploded after only three years, but their cult appeal has lasted far longer through their two albums and related material on their Insight label.