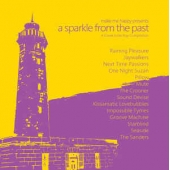 Various Artists
A Sparkle From The Past - A Greek Indie Pop Compilation
Label: Make Me Happy
Genre: Rock / Pop
Black vinyl, 300 numbered copies.

"Make Me Happy" is an indie pop group of friends sharing an endless love for our musical roots such as C86, underground pop, electropop and other similar sounds. Constantly present during the last couple of years, with event in bars and clubs all around Athens (and not only), we shared with you our beloved music and addressed once more the dormant, but always strong, need to reactivate everyone along the lines of "anthropocentric creativity," or D.I.Y., in the words of our musical forbears.



As part of this reactivation, it is with great joy and …colorful dreams that we announce our first vinyl release: A SPARKLE FROM THE PAST, a compilation of 14 songs by Greek English-speaking bands active during the late '80s and early '90s (some of them still active today). These previously unreleased recordings come from demos and other material out of the personal archives of these bands, processed using current techniques, with professionalism and due respect.



So with this compilation we welcome you to our musical soundscape and we're looking forward to sharing with you our music-enhanced dreams.