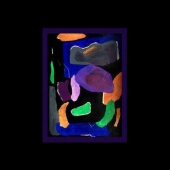 Virginia Wing / Xam Duo
Tomorrow's Gift
Label: Fire
Genre: Electronica / Ambient / Experimental
Availability
LP + MP3 COUPON €19.99

In Stock
Among slowly unravelling coils of oscillations and intermittent fragments of semi-formed loops, instruments both electronic and acoustic resonate gently against each other over an ever-evolving soundbed of textures. A meeting of minds and those exciting first sparks of inspiration soundtracked by celestial, otherworldly tones and free-flowing spoken word.
This was how Virginia Wing and XAM Duo spent two cold days at the start of January 2017. A weekend escape in the frozen industrial district of Bradford became an archive of improvisations that were later sculpted into an all-encompassing full length.
Within minutes of the four playing together for the very first time their ideas quickly grew into one single-minded theory; that of free-thinking, acting on instinct and each having the patience to allow even the smallest of initial ideas to grow organically into fully-formed pieces of music.
Condensed from 48 hours down to 48 intense minutes the group's recordings create an all-encompassing new universe of sound with references from the mutated world percussion of Holger Czukay, the transportive saxophone of Pharoah Sanders, and the devotional music of Alice Coltrane.
Over the course of the album's wide-eyed exploration, the group's first ever steps of creative collaboration unfold in unexpected ways, whether it be on the inhibition-free wonderment of lengthy opener 'Birch Polygon', or the hopeful, throbbing ambience of 'Good Roads Fair Weather', with its minimalist piano and vapour trails of saxophone.
This overflow of collective creativity was captured live via half a dozen haphazardly placed microphones before being mixed dutifully and beautifully by close and trusted companion of the band, Misha Hering, who's one-take, effect-laden sonic portraits were very much in keeping with the free-improvisation of the original session. With a few choice overdubs placed in and amongst to add further texture, the result is nothing short of stunning; meditative and warmly fluorescent, like a half-recalled melody teetering on the edge of a pre-cognitive memory. A spiritual record, perfect for a late-night diversion set to heal the souls of those willing to take it into their hearts.