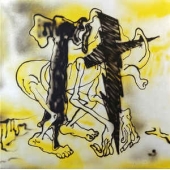 Turbo Teeth
Yellow Equals One
Label: Untitled-1
Genre: Electronica / Ambient / Experimental
Edition of 300 copies on white vinyl, packaged in a 70 x 100 cm folded poster with full artwork, including a batch of 10 perforated sticker-pack, designed by 10 different artist.
"Yellow Equals One" finds one of Athens' most offbeat musicians, Giorgos Axiotis, recording his first proper solo release as Turbo Teeth, a project that culminates many years of experience and experimentation as a member of prestigious acts such as Free Piece Of Tape, Balinese Beast, Holefold, Bruised Lee and Tom Cruisin'.
"YEO" is a record of intuitive charm, an exercise in style and substance, revealing an incredible aptitude to switch between styles and grooves. A sense of universal moodiness combined with a flair for quick, witty chunks filters through every track in it, holding together nervous percussion, irregular patterns, dystopian synth lines, retro sci-fi goofiness, tape deck abstractions and fractured pop. This is an alchemical blend of sounds, with each track materialized as a hybrid of ideas and different tiny snatches.
Opening track 'Money Over Glitches' is a perfect slow burner with its idiosyncratic bass, hazy pads and punchy hi-hats topped with some bizarre, slowed down sampled vocals. 'Big Troubles' features brief whistling sounds, percussive elements and various slapstick noises that emerge over a retro-robotic swing to put together a bizarrely mechanized dance track. This affection for automated malfunctions carries on throughout the first part of 'Dial A Discos pt. I & II' with xerox beats and collage patterns, up to a point when a hypnotic lo-fi sample ritual cuts the track halfway through, resembling a remote UFO calling adorned with slow rhythmic pulses and dubbed out sampledelia. 'Chica's Palindromes' stands out as probably the record's most haunting track, with its spacious opening of creepy hiss and absurd reverse loops, followed by some poignant dubby chords, optimized for some ultimate bleak atmospherics, dreamlike textures and lynchian filmic qualities. Not so much as an afterword but rather as the track that epitomizes "YEO" feel, 'Tropical Tape Transit pt. I & II' begins as a crap-rap abstraction with fragmented burlesque tricks over a steady beat that slowly evolves into a mesmerizing keyboard reverie applied over a soft kick drum.
Sitting in the twilight zone, somewhere between nervousness and uncanny exultation, "Yellow Equals One" is a truly sharp move that could serve as the finest soundtrack to a nocturnal cruise through dim-lit, desolate metropolitan suburbia.