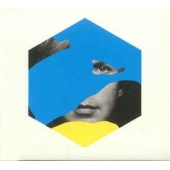 Beck
Colors
Label: Capitol
Genre: Rock / Pop
Availability
CD Digi / Cardboard €15.49

In Stock
Other Formats
Hailed in advance by Rolling Stone as a "euphoric blast of experimental pop," Beck's 13th album Colors has been confirmed.
Possibly the most aptly titled work in Beck's storied discography, Colors unfolds in an intoxicating rainbow of auditory tricks and treats, making it a shoo-in for summeriest smash of the autumn season.
Colors was produced by Greg Kurstin and Beck, with the exception of "Wow" produced by Beck and Cole M.G.N., and "Fix Me" produced by Beck.
The album was mixed by Serban Ghenea, except "Dreams" and "Up All Night," which were mixed by Greg Kurstin and Beck.
In addition to the newly unveiled "Dear Life," Colors includes both Beck singles that preceded it: a new mix of the psych-dance summer jam "Dreams" that NPR hailed as "urgently contemporary and irresistibly vintage" and the retro-futuristic earworm "Wow", heralded as a "gust of starry-eyed pop" by MOJO and "brilliant wild funk" by NME.