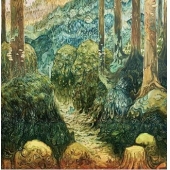 Agusa
Agusa
Label: Kommun 2
Genre: Post Rock / Avant Rock
Availability
Other Formats
Black vinyl with japanese obi, 100 copies.
Kommun2 Records presents Agusa's brand new studio album! Their third, fourth if you count their live one from 2016, is their self-titled one - for insiders it is just "3". This musical beast prowls the abandoned ruins of old school organ based Progressive Rock, sharing its DNA with progenitors like Caravan, Cathedral, and ELP. It's heavier, darker and dirtier than the last two albums and no note has been left unplayed in AGUSA's quest for the psychedelic sounds of heavy rock music - roaring Hammond organ, heavy fuzz leads, '60s plonky bass, soaring flute and thunderous drums.
In September 2016 Agusa released their live disc Katarsis, which had been recorded in Athens, Greece, six months earlier. Following that release the band had a hectic schedule with gigs in Scandinavia, Poland and Greece (again). This proved to be too much for organ player Jonas Berge who left the band in January 2017, while recording the new studio album. This called for a break, as the band had to finish mixing and recording the album and find a replacement for Berge. Finding a talented organ player who would also fit into the group proved to be a difficult task, but finally Jeppe Juul was picked as Berge's successor. Juul is originally from Denmark, but now lives in the deep woods of southern Sweden in primitive circumstances (he and his family have to carry all water from a nearby well and only occasionally get some electricity from some solar cells on the roof). Juul has previously played with many acts in different genres, among them Marcus Miller, the Royal Danish Ballet and Lili Haydn. Following up Jonas' departure, flute player, Jenny Puertas gave birth to a daughter in May and missed some gigs during the summer because of this - she in now back playing with the band. And so is Berge, as he missed playing with Agusa so much that he joined in on some concerts this summer, which meant that Agusa performed with two organ players at the same time!
The upcoming album contains five tracks and is heavier than its predecessors. As always with Agusa, they have performed quite different versions of the new songs live compared to how they ended up on the album and hopefully they will continue to do that, turning every Agusa concert into a unique experience. The new - self titled - Agusa album will be out in October. This will be celebrated with one release party in Sweden and one in Denmark. After that, Agusa will head east to play their first gigs on Russian soil.