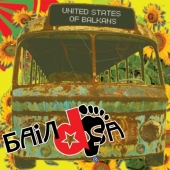 Baildsa
United States Of Balkan
Label: Baildsa
Genre: Rock / Pop
Availability
CD Digi / Cardboard €7.99 Nice Price

In Stock
BAiLdSA is a group based in Thessaloniki, Greece that combines balkan sounds and gypsy melodies with post punk aesthetic. The name comes from the turkish word bayılmak to faint), which is widely used in villages in the balkans also with similar meanings as fed up, sick of etc.
Since forming in 2008, BAiLdSA gradually developed their distinctive and individual sound by merging the existing balkan-gypsy genre with new elements from ska, punk, reggae, rap, and even indie, post-rock or stoner. In 2011, the band recorded and self-released its debut album "United States of Balkans" in Thessaloniki, Greece. It received very impressive reviews and helped build an international fanbase. However, live on-stage performances are the band at its best. So far, BAiLdSA's dynamic and explosive shows have earned them more than 250 concerts in Greece, Turkey, Cyprus, Macedonia, Bulgaria, Albania and Germany, several festival appearances, and opening acts for the likes of Kultur Shock, New Model Army and Manu Chao.
Ever since the beginning of their career, BAiLdSA actively join the forces of social change and stand against racism and fascism through their songs and general attitude. The band itself is the carrier of a hopeful message of unity and solidarity, which they spread like wildfire in every place they visit and play.
In 2013 the band worked with producer Nikodemos T on their second album, "zVarNa". Released in October 2014, "zVarNa" carries more diverse elements, combining balkan and ska tunes with blurry indie soundscapes. It gravitates towards a rawer, punk rock-alternative sound while maintaining the band's unique sonic footprint. Recorded in a more traditional, "old school" way and mixed entirely in analogue, it delivers a fresh, lush, and organic sounding track list and captures the band's massive live sound and energetic on-stage performance.