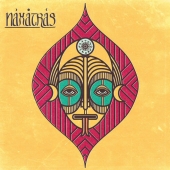 Naxatras
Naxatras - Vinyl Edition
Label: Naxatras
Genre: Post Rock / Avant Rock
Availability
LP x2 €31.99

Out of Stock
The remaining last copies!

Engineered by Jesus Agnew in a 100% analog way at Magnetic Fidelity Studio.

The album was recorded live in the studio with no overdubs during a single day in January 2015. ATR Magnetic Master Tape in 1/4" was used as the master tape, in a half-track stereo configuration.