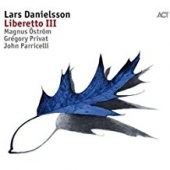 Danielsson Lars
Liberetto Iii
Label: Act
Genre: Jazz / Avant Garde
Availability
LP 180GR +MP3 COUPON €30.99

Dispatched within 5-10 working days
Other Formats
Music must touch the emotions



For Lars Danielsson, that consummate craftsman of sound on both cello and bass, the power of music resides in melody. It is the heart from which everything else develops, and his Liberetto ensemble has stayed true to this principle again in its third album. The word 'Liberetto' which Danielsson coined for the name of the group also serves well as a descriptor of his art. 'Libretto' is a reference both to Western art music which is the source of his compositions, and to their lyrical, vocal character. But also hidden in the band's name is the Latin adjective 'liber' (free). That stands for improvisation, for how individuals can take lines and shapes and adapt them, but above all it refers to Danielsson's musical understanding which acknowledges no boundaries.



This third edition of "Liberetto" transcends more of those boundaries than ever before. The opening track of the album looks heavenward: "I wrote 'Agnus Dei' for my mother," Danielsson explains. "She sang in a choir - as I did later too. The spirituality and the ceremony of liturgical music left their mark on me." Following on from this gentle, almost classical hymn is "Lviv", a tune which is very differently wired: it's brisk, based on a simple poppish melodic hook and it has an uncommon sense of rhythmic forward propulsion. What follows is many-sided: "Sonata in Spain" the band toys with Spanish folklore, "Taxim By Night" has a waft of Turkish-Arabic scent, and "Gimbri Heart" has African charm and warmth. By contrast, "Mr Miller" is a touching ballad with a 'Nordic Sound' aesthetic.