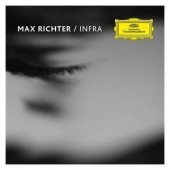 Richter Max
Infra
Label: Deutsche Grammophon
Genre: Electronica / Ambient / Experimental
Availability
LP 180GR +MP3 COUPON €23.99

Dispatched within 5-10 working days
After Songs from Before and The Blue Notebooks, DG is releasing the third in a row of Max Richter's Retrospective catalogue – Infra, now on Vinyl and CD!
Scored for piano, electronics, and string quartet, Infra is an expansion of a 25-minute piece Richter wrote for a collaboration with choreographer Wayne McGregor and visual artist Julian Opie.
The original ballet was a response to the London bombings on 7/7. Richter explains: "The piece is about traveling, and in a way, [the songs] are quite existential, a meditation on the political state of London at that time and the tragedy of those events. We all knew people who had been affected by it or killed. Music is a social activity, and by definition, making any kind of statement is a political act."
The release follows Max Richter's latest album "Three Worlds: music from Woolf Works", which likewise features music from his score to Wayne McGregor's ballet Woolf Works.
With Infra Max Richter also responded to, amongst other things, Winterreise, Schubert's masterful, mournful gothic era song cycle based on Wilhelm Muller's bleak monodramatic poems set in a brutal winter about a questing, misunderstood wanderer whose heart, and memory, is frozen in grief.
Max Richter piano & electronics
Louisa Fuller / Natalia Bonner violins
Nick Barr viola
Ian Burdge / Chris Worsey cellos