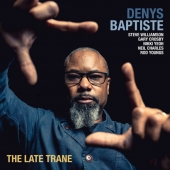 Baptiste Denys
The Late Trane
Label: Edition Records
Genre: Jazz / Avant Garde
Availability
CD €15.99

Dispatched within 5-10 working days
The Late Trane is the powerful and commanding new album from British saxophonist Denys Baptiste, a giant of the UK jazz scene. Reimagining and reworking ten carefully chosen composition from John Coltrane's late music (from 1963 – 1967) with a fresh and modern new interpretation, The Late Trane perfectly balances Denys Baptiste's unique artistic vision with the visceral emotions and cosmic references that encompasses Coltrane's late music.

After almost two decades experience at the forefront of the British and European Jazz scene, Denys Baptiste still brims with the confidence of a youthful spirit. With a stellar band that fires on all cylinders and a new home at Edition Records, Denys' career continues to grow and blossom. This is an album by an artist in total control of his vision, a bandleader flexing his muscles and a musician in his instrumental prime. The Late Trane will fulfil his potential at an international level and bring a new audience to one of the finest instrumentalists and composers on the UK scene – something of a sleeping giant in the last 3 decades, but a giant that is about to wake!

The later works of John Coltrane, preserved in both studio and enigmatic live recordings were some of the most emotional and spiritually charged music of the 20th Century. Written at a time of tumultuous change in America and the world: the civil rights and anti racism movement, the Vietnam war, the peace movement and space exploration inspired a great flow of creativity of which Coltrane was at the heart. As Denys explains: 'John Coltrane continues to be one of my most important influences and his late period has always intrigued me and has stimulated my work over many years. To play this music, with these incredible musicians alongside me is hugely inspiring'.