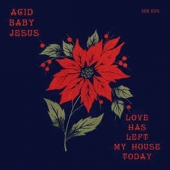 Acid Baby Jesus
Love Has Left My House Today
Label: Sound Effect
Genre: Rock / Pop
Availability
7" €7.99

Dispatched within 5-10 working days
Olive green vinyl.
Colour your doom ladies and gentlemen, after a couple of years of playing behind their second
album, Selected Recordings, Acid Baby Jesus is out of the opium den and into the opera house with
a fresh 3-song EP to satisfy your aural sensations. Recorded in the heart of Athens with their
longtime engineer Nikos Lavdas, "Love Has Left My House Today" is the first taste of their upcoming
LP and the first recording to feature new member, Dox Grillo on guitar. On the b-side "Seesaw" and
"Serpent Dagger" are exclusive to this release. Heady spacious rock n' roll with soulful piano,
banging percussion, backwards guitar and interlocking harmonies. Love is back again.