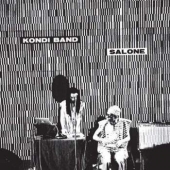 Kondi Band
Salone
Label: Strut
Genre: Freestyle / Nu Jazz / Funk / Afro
Availability
LP x2 €22.99

Dispatched within 5-10 working days
Strut present an inspired new Afro-electronic project for June 2017, Kondi Band, a collaboration between Sierra Leonean kondi (thumb piano) player Sorie Kondi and US producer / DJ Chief Boima, who himself has Sierra Leonean roots.
The project was spawned after Boima happened upon an online video of one of Sorie's original tracks. "Sorie Kondi is a blind musician with a will to thrive like no person I have met before," explains Boima. "My work with him began with a youtube link. I spotted the video for his track 'Without Money No Family' and was struck by his beautiful vocals and socially-conscious lyrics. These incredible melodies he was playing on his namesake thumb piano (the kondi) sealed the deal: I immediately decided to remix it." The resulting bootleg remix started appearing in DJ playlists and led to coverage by The Fader magazine. As a result, Sorie's manager in Freetown reached out to Boima and, after a successful Kickstarter campaign, Sorie travelled to America for the first time for a five date tour. During the trip he and Boima worked on new recordings which would form the nucleus of the debut Kondi Band album 'Belle Wahalla'.
"This album forges a direct link between techno born in the black cities of the American Mid-West, where I grew up, and roots African music," Boima continues. "Sorie Kondi may be playing an acoustic folk instrument from Sierra Leone, but he thinks about music as if he were a techno producer with the dance-friendly pulse of his cajon drum, the spiraling melody lines from the thumb piano and his incredible vocals." Through Boima's intricate production, the album subtly and skillfully integrates contemporary electronic sounds, keeping the simplicity and space in Sorie's music.
Sorie's lyrics are personal, immediate, and often uncompromising. 'Girl Service', warns against the dangers of child prostitution. 'Belle Wahalla', is a song that uses belly pain as a metaphor for poverty, hunger, and lack of financial opportunity. 'Thank You Mama' is an ode to his mother for loving him even though he was born unsighted, and the anthem 'Without Money, No Family' is about how even family can be a privilege.