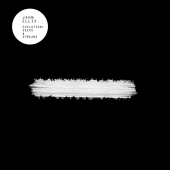 Ellis John
Evolution: Seeds & Streams
Label: Gondwana
Genre: Jazz / Avant Garde
John Ellis is a pianist, composer and producer from the north of England. A founder member of The Cinematic Orchestra (contributing heavily to the albums Everydayand Man With The Movie Camera) he has also worked with the likes of Corinne Bailey Rae, Lily Allen and DJ Vadim and led his own trio and 12 piece big band The John Ellis Big Band. In 2015 John collaborated with visual artist Antony Barkworth Knight for the Irwin Mitchell commission at the Manchester Jazz Festivaland it is this collaboration that gave birth to Evolution: Seeds & Streams.
Cinematic in scope and sound, Evolution: Seeds & Streams takes flight from jazz, electronic music and Malian music influences to create something wholly unique and compelling but with a spiritual center that gives the music real heart. It is a recording that marks the emergence of Ellis as a major artist.
Heavily influenced by Malian Kora music Ellis has created a beguiling album that takes us on a spiritual journey inspired by the idea of Evolution. Not just traditional images of Darwin and the chimps but more what Ellis describes as the idea of us humans using our imagination as the 'dominant species' to decide where we really want to steer the ship. It has to be a global question now. One that involves every person on the planet. It's this global outlook that inspired Ellis towards his unique band, one that features two kora players (Jali NyonkolingKuyateh and John Haycock) alongside a horn section (Sam Healey, Helena Jane Summerfield and Ellie Smith), cello (Jessica MacDonald) and a unique rhythm section featuring Pete Turner on bass and synthesizer, percussionist Rick Weedon, beatboxer Jason Singh and Ellis himself on piano and keyboard. And in keeping with the evolutionary theme the album draws it's influences from the traditional and ancient musical traditions of Mali, the 20th Century sounds of jazz and contemporary dance music to offer something new and profound. Thecontribution of film-maker Barkworth Knight lives on in both his enigmatic video for Unidentical Twins and asinspiration for the striking artwork from Gondwana's in-house design guru Daniel Halsall.