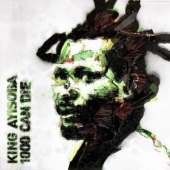 King Ayisoba
1000 Can Die
Label: Glitterbeat
Genre: World Music
Availability
LP 180GR +MP3 COUPON €19.99

Dispatched within 5-10 working days
Ghana's ancient empire and the 21st century global express. The rhythms that created the past alongside the beats forging the present. In King Ayisoba, they all converge. Everything morphing into one. And on his new album, 1000 Can Die, they stand together, history and today, side by side. The tradition hewn from the future.

"King Ayisoba and his band know that traditional instruments are stronger than anything modern," says album producer Zea (the Ex's Arnold de Boer). "Playing them is a gift from God. They'll take what they can use from electronica, from hiplife (the hugely popular Ghanaian style that fuses the local highlife music with hip-hop) but they won't let it beat them, because they know what they have is more powerful. Their music is pulled from the ground."

The juxtaposition of the two on 1000 Can Die shows the irresistible drive of both sides. The thick, squelching bass and beats that push under the older rhythms of "Anka Yen Tu Kwai" are overtaken by the guluku and dundun drums that bring in "Yalma Dage Wanga," its rapid-fire melody dictated by Ayisoba's voice and two-string kologo lute.

Ayisoba toured Europe together with Zea, opening up solo, providing guitar, vocals and live electronics on stage, and Francis Ayagama joined King Ayisoba's band on djembe and bemne drums. Piece by piece, the experiments grew into the juggernaut of 1000 Can Die. Guests brought new facets to some of the tracks. The trailblazing Nigerian saxophonist Orlando Julius adds a raw, reedy quality to "Dapagara," while on "Wine Lange," the only song not to feature kologo, Sakuto Yongo's one-string gonju fiddle takes the music into a different, ancient dimension. The title cut features Ghanaian rapper/producer M3nsa alongside the shape shifting vision of legendary reggae producer Lee 'Scratch' Perry.

Alone or with beats, ultimately the power that propels 1000 Can Die comes from the band itself, from the sense of history that forms every piece of music. It's there in every musician. They all go home and farm. They're connected to the land, and the songs are part of the harvest they bring from the fields and from their own families.

It's a force that Ayisoba has inherited. He's absolutely compelling, charismatic. Not only in his imposing appearance, but in his kologo style – part rhythm, part melody - and singing. Whether the words are in Frafra, Twi, or his own style of pidgin English, the sense is always
there: this is a man who has something important to impart. Every moment is intense and urgent. It leaps over the sounds of the album's opener, "Africa Needs Africa," and remains, gentle and soothing, on the acoustic last track, "Ndeema."